When you are visiting a new city or a different part of the country, you want to be able to see the best that the place has to offer and relax and enjoy the journey. Tour buses have become a very trendy way for people to make the most of their trips and see the sights.
With a tour bus, you get to choose between the best attractions designed to please every kind of adventurer, with a friendly and knowledgeable guide taking you to the most popular and exciting spots. You can also leave the worry and stress of driving and parking behind, and relax in style.
Here is a guide to bus tours in Canada, and how using them can help you make the most out of your next vacation.
How Does a Big Bus Tour Work?
With a bus tour, you can purchase a specific tour to a particular region and choose from day trips that will pick you up at your hotel or place of accommodation, take you to see your selected attractions and bring you back at the end of the day. These bus tours often include a tour guide who can answer any questions you might have.
You can book a bus tour for a large group to travel all together, or take a smaller, more intimate group and join a bus tour that is already scheduled.
Multi-day bus tours often take the form of packages and will also include accommodation and tickets to attractions. A multi-day bus tour to Ottawa could also include a bus tour to Montreal, allowing you to see the scenery along the way and getting you to your destination relaxed and inspired. It is best to check the details of what is offered for each tour very carefully before booking to know which bus tour is best for your group.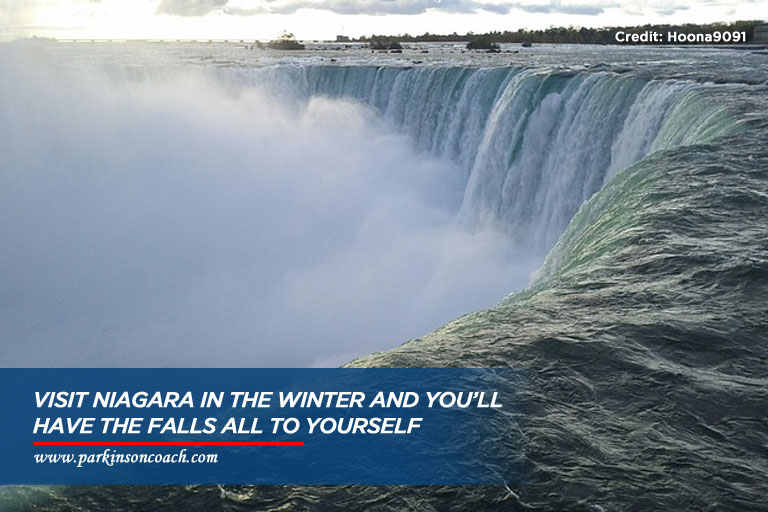 Visiting Niagara Falls
Niagara Falls is one of the natural wonders of the world and a popular destination for visitors from around the world. The falls link the border between Canada and the U.S. and fall from a height of 50 metres (or 167 ft).
A tour from Toronto to Niagara Falls is a popular excursion for both visitors and Toronto residents. Many people who are visiting Toronto plan to experience the sights of Niagara Falls, but may not be aware of the distance between the two cities. Although Niagara Falls is only a little over a 2-hour drive from Toronto, it can be a bit farther than some people want to drive. Options for travelling to Niagara Falls include:
A GO Train and a bus
Rental Car
Via Train
A bus tour to Niagara Falls makes getting there a breeze. With a bus tour, you can be sure to hit all the important sights and it takes away the worry of traffic and the expense of parking.
With a bus tour to Niagara Falls, you can choose to see the most exciting spots for your group and decide if you want to make it a day trip, or take your time and stay overnight. For the day trip, the bus will take you to the falls with a stop at a winery or the butterfly conservatory, get to to the fall with enough time to wander around, take some selfies, have lunch and then get you back on the bus and back to Toronto in time for dinner.
Take advantage of an overnight bus tour to Niagara Falls and see the fireworks and light show on display every evening.
When To Go
Peak touring season to Niagara Falls is during the summer months of June through August. You can expect crowds at the falls and most attractions. It is a good idea to book ahead and buy your tickets early. Early spring or fall is an excellent time to visit Niagara Falls. The temperature is cooler, and the crowds are much lighter, so you'll have an easier time getting in and have fewer crowds and line-ups.
The low season of November to April is cooler, but if you don't mind bundling up it can be a great time to visit the falls when you'll have them all to yourself. Finding accommodation is also much easier, and prices can be much lower.
What To See in Niagara Falls
The obvious attraction is the falls themselves, be sure to give yourself lots of time to walk along the river and take in the view.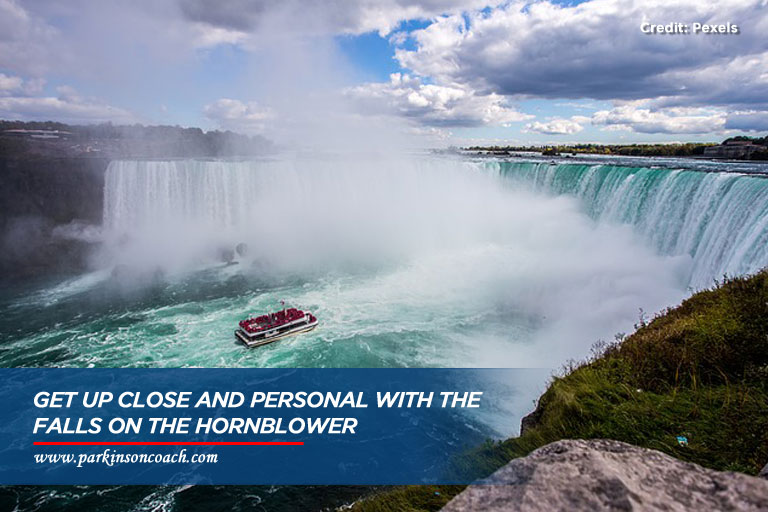 – The Hornblower is a boat (formerly known as the Maid of the Mist) that takes visitors on an up-close journey to the base of the falls. It is one of the most popular tourist attractions in Niagara Falls. The views from the boat are fantastic, but be sure to wear a rain poncho and bring an extra set of clothes because you are guaranteed to get wet!
Journey Behind the Falls – This tour takes you from above the falls down 125 feet into the middle of the waterfall into 130-year-old tunnels that weave behind the falls. It is an intense and amazing view of this extraordinary force of nature. The tunnels lead to an observation deck right beside the falls that takes you right up close to the thundering water.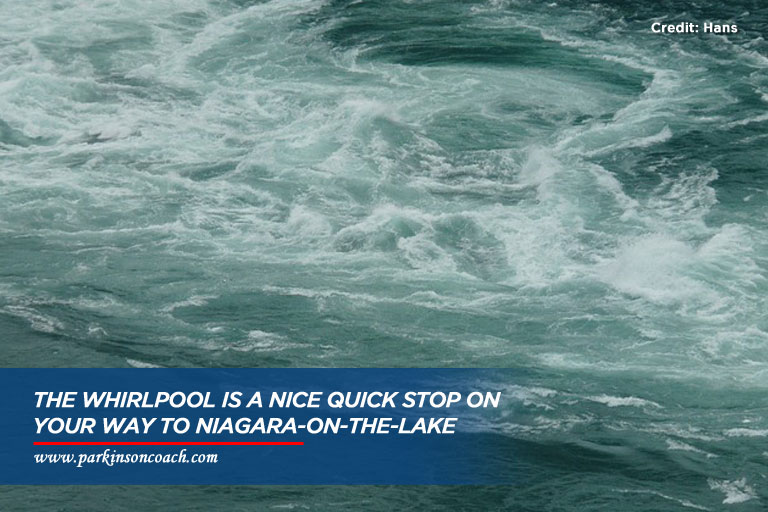 The Whirlpool – just down the road from Niagara Falls is a nice stop at the whirlpool. See the powerful Niagara River and get up close with a ride on the cable car overlooking the whirlpool.
Clifton Hill – At the top of the hill you'll find your fill of wax museums and cheesy stores selling souvenirs of Niagara Falls. Highlights include Dracula's Castle, The Haunted House, and Ripley's Believe it Or Not Museum.
Butterfly Conservatory – a great year-round attraction that allows you to walk with the butterflies in an indoor rainforest. Many will land on you as you walk along the path. Perfect any time of year, but especially on cold winter days.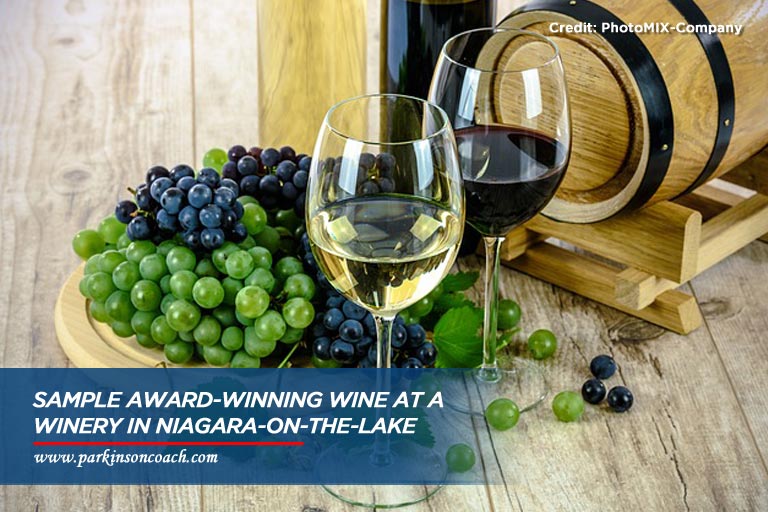 Winery Tours and Tastings – just a 15-minute drive from Niagara Falls is the beautiful and quaint Niagara-on-the-Lake. Take in some theatre, visit the shops, and stop by many of the award-winning wineries in the area. Bus tours are perfect for this stop as you can sample all the wine you like without having to worry about driving home.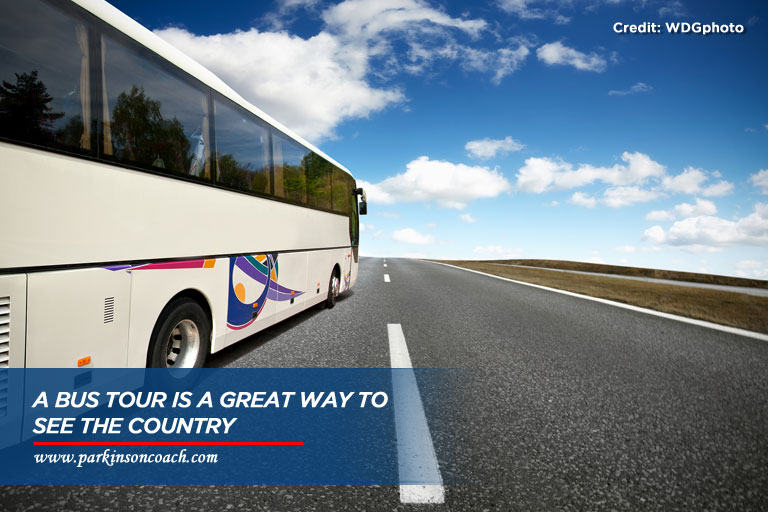 Where does the tour start?
Many bus tours offer door-to-door pick-up service, and will pick you up outside of any hotel, motel, Airbnb or residential address and drop you off at the same address at the end of your tour.
If you are looking for a safe and reliable bus tour from Toronto to Niagara Falls for your next vacation, give Parkinson Coach & Tours a call at (905) 451-4776. We'd be happy to show you the sights and get you where you want to go in style and safety. Visit our contact page to find out more about our bus tours, and see what we have to offer.