Luxury on wheels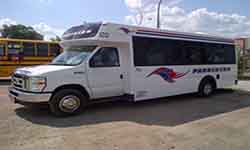 Since 1922 Parkinson Coach Lines have been serving the Toronto, Mississauga, and Brampton areas, by proving world class traveling services. So whether your travel needs are local or long distance you can rely on Parkinson for safe and trustworthy service.
Parkinsons has coach services for any event that may come up, whether planned or spontaneous, Parkinson Coach Lines are there.
Having a small family gathering and need transportation, then the Minibus Rental option is the way to go. With an 11 passenger capacity these busses are perfect for smaller parties. If you live in the Toronto area or the Mississauga area you can choose the Minibus Rental as your option. Brampton residents don't feel left out we have service in your area also.
If you are planning a larger engagement, then Parkinson Coach Lines is the place to call. For over 80 years Parkinsons has made a commitment to provide high quality service to all its customers. In the many years that Parkinsons has been serving the traveling public they have maintained leadership in their field. They have consistently maintained and upgraded their busses and service packages in order to meet the demand of the ever changing populations.
With their recent addition of the 56 seater bus, larger groups are now able to take advantage of the comfort and safety with every bus that is chartered.
Bus tours have become very popular in the past few years. Parkinsons Coach will be glad to chauffeur your group around the city while you enjoy the sites and bask in the first class amenities that this charter company has to offer.
Are you in the market for a school outing?
Parkinsons has the school bus to get you safely to your destination. Whether it is a sporting event across town or an overnight extravaganza, Parkinsons Coach Lines is up for the job.
Safety is a major concern with this bus line and the assurance to parents that their children will be in good hands has made Parkinsons the leader in school outings via bus charters. Always checked and double checked these busses undergo rigorous monitoring not just by industry standards but by their own standards which are far more stringent than any industry standard. If a bus is to be inspected every 6 months, Parkinson inspects them every 3 months. With a privately owned service shop and thoroughly trained staff, every bus, whether it is a school bus or larger charter, gets special care. Even the mechanics are given periodic evaluations by testing their skills on a yearly basis,just to make sure they are meeting those rigid standards that Parkinsons hold so dear.
Why not call us today at 905-451-4776 to reserve your charter and enjoy your next big adventure.