Shuttle Bus Rental In Toronto – Call Parkinson Coach Lines!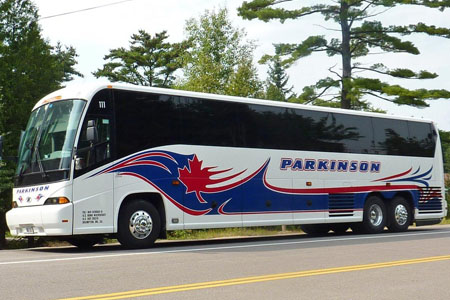 With so many captivating Canadian landscapes to admire and appreciate, bus travel will always remain an essential part of the transportation world. That's why we provide shuttle bus rental in Toronto (and shuttle bus rental in Mississauga) – because we would like your travel experience to be as comfortable and scenic as possible. Whether you are taking a group tour, school field trip, hosting a special company activity, or planning a family vacation, you can enjoy a most wonderful experience by taking advantage of shuttle bus rental in Toronto or Mississauga, provided by Parkinson Coach Lines. We have an excellent record for safety and customer satisfaction. We have provided bus and coach rental services in the greater Toronto area for several decades.
Our years of experience in the transportation business and our familiarity with Canada's wonderful sights and attractions uniquely qualify us to get your group wherever you're going. Some groups simply want to get from point A to point B. Others want to take it slow, enjoying their surroundings. We're happy to oblige either request. We're well aware that every group has different needs when it comes to their travel requirements. To meet these needs, we have tailored our bus rental services to ensure that each group receives great value for their money. We are confident to say that for shuttle bus rental in Toronto or Mississauga, Parkinson Coach Lines is your best choice. Once we know your route, we can make recommendations for the speediest trip or tell you about some wonderful stops you can make along the way. Just share your priorities with us and we will take care of your group; leave the driving to us!
Buses to Fit Any Group Size
Planning a family tour around Ontario with a small number of people? No problem; we have the bus just right for your group. And for those groups with larger numbers (perhaps requiring more than one vehicle) we have the coaches to accommodate your group as well! We have a large fleet and will always have buses available to make sure that your group departs and arrives at the same times. Do you have a large number of relatives flying in from out of town for a wedding or reunion? That's also not a problem! We provide Toronto airport bus rental services that will make sure everyone in your party arrives at your event safe and refreshed. Share your needs with our expert and friendly staff, and then we will provide the ideal bus or coach to meet your party's expectations and needs.
Safety, Comfort, and Satisfaction For Everyone
As always, renting a bus from Parkinson Coach Lines guarantees a commitment to safety, comfort, and customer satisfaction. Travelling in one of our well-maintained buses, operated by experienced and well-trained drivers, is a joy. Say goodbye to cramped cars filled with family, luggage and no legroom. Say hello to WiFi, DVD and CD players, and washroom amenities. Our buses are designed with your comfort in mind. So, for shuttle bus rental around Toronto or Mississauga, look no further than Parkinson Coach Lines.
Call Parkinson Coach Lines at (905) 451-4776 or 1-866-550-6800.