When your conference, business meeting, or other major company event requires a corporate coach bus in Toronto, Parkinson Coach Lines is a reliable service with over nine decades in the business of transporting people on time and where they need to be.
For decades, companies have returned to us for a corporate coach bus for Toronto business meetings and other events. Parkinson is an independent, charter bus company prioritizing the comfort, satisfaction, and (most importantly) safety of our clientele. We are family-owned, which makes a difference in this day when many online businesses do not answer your calls or messages.
If you want to relax on a coach, Parkinson offers comfortable seats that recline and power for your personal devices. If you wish to do work online while en route, we also offer WiFi.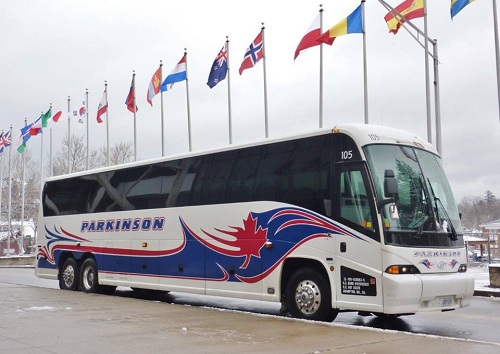 Transport in Toronto can be fraught with traffic and other delays. Rather than deal with expensive taxicabs or rental cars, look into a corporate coach bus when Toronto meetings call you to town. Our drivers are familiar with the traffic patterns and will plan a route to get you where you're going on time. If you need airport pickup, there's no need to worry or stand in the winter cold or summer heat. The driver will be in touch with you and pick you up as scheduled.
Safety is a priority with Parkinson Coach Lines. Our fleet of vehicles is regularly tested and maintained, and our drivers have regular checks and training. Make sure your important business happens as scheduled. Parkinson Coach Lines will provide you a quote at (905) 451-4776. If you have additional questions, email and we can assist you with your corporate travel needs.