If you're looking into bus rentals for a hockey team, Parkinson Coach Lines fully understands the importance of safety and comfort. We want to get your kids to the ice as quickly and safely as possible, and we have the crew and bus fleet to do it. Both parents and coaches put the safety of the players first, and having a well-maintained vehicle and experienced driver behind the wheel is paramount. Parkinson Coach Lines has decades of experience and a strong track record; your team is good hands when riding on our buses throughout Toronto and Mississauga.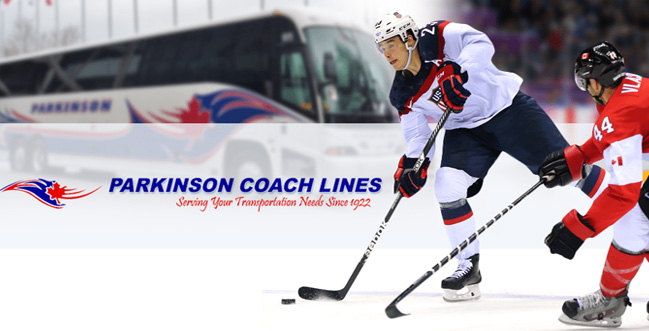 A Superlative Record
Parkinson Coach Lines has one of the best records in the Canadian transportation industry. We are proud: We've brought more people to their destinations safely than any other transportation provider. If you require bus rentals for a hockey team in the GTA, our enduring commitment to safety and customer satisfaction can alleviate any fear you may have about the well being of your players.
Superior Vehicle Maintenance
Our vehicles are kept in top condition. We adhere to a strict maintenance program and schedule, carried out by skilled and well-trained maintenance personnel and mechanics. All vehicles are serviced and maintained on site to ensure our high standards of quality are met.
Skilled and Experienced Drivers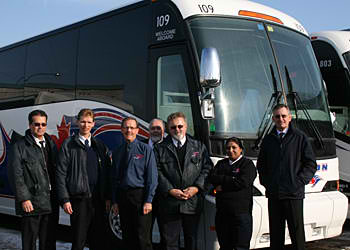 Safe vehicles or bus rentals for your hockey team are imperative. A good driver is essential. Parkinson Coach Lines only hires drivers with skill and experience. We mandate continuing driver education and training with the most competent and established trainers in the field. Our drivers meet drug and alcohol testing protocol. You should never worry about the person behind the wheel transporting your team. Rest assured Parkinson Coach Lines has your best interest at heart.
If your hockey team or sports team is travelling around Mississauga, Brampton, and Toronto, they will be safe with Parkinson Coach Lines. Call us today at (905) 451-4776, (416) 451-4776, or 1-866-550-6800 or email: info@parkinsoncoach.com.