Bus Charter Bus Rentals for Toronto and Mississauga
Parkinson Coach Lines has been in the transportation industry for 80+ years, serving over four generations of satisfied customers. Throughout our history we committed to offering the customers the highest value possible. This dedication to customer service and excellence has been rewarded with a reputation of industry leadership and the continued patronage of our valued customers. As part of our continuing effort to offer only the best, we maintain and consistently upgrade our charter bus rentals in Toronto (as well as our Mississauga bus charter services), to meet the growing needs of our customers.
A charter bus is exclusively for the use of the people who reserve it. The driver looks out for the passengers' safety and makes sure they arrive at their destination(s) on time. If you're travelling in the Toronto area, traffic and construction can be frustrating and create unexpected delays. Our drivers are aware of these potential problems, and our staff can advise the best way to travel and get where you're going without anxiety. When you leave the driving to a professional, you can relax and prepare for your convention, meeting, sightseeing, or any purpose of travel.
Choose the Best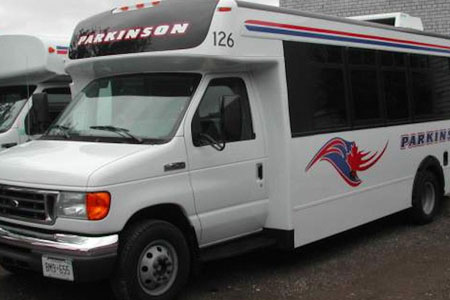 Our customers have different needs and preferences. Accordingly, we tailor our bus charter services to provide satisfaction and value for everyone. For any type of party, band, team or organization in Canada (or elsewhere), we have your charter bus. Whether you need transportation for only a day or multiple days, we have an ideal bus for you. We can provide buses for a small, close-knit gathering or a large group requiring our latest 56-seater vehicles.
Does your group want to watch a movie en route to their destination? We can provide the necessary technical requirements. Do you need charging stations for your laptops or cell phones? We're at your service. Do you want to avoid regular, unscheduled stops for people to use the facilities? We have charter buses with a bathroom for your private use.
If you require additional charter bus rentals in Toronto, we are pleased to accommodate your organization with the high-quality comfort, safety, and convenience for which we are renowned. Our fleet is designed to meet all our clients' needs. We are equipped to answer your call for charter bus rental in Toronto or Mississauga. Parkinson Coach Lines goes the extra mile to provide an enjoyable experience with every booking.
Commitment to Comfort and Safety

To ensure that all customers are comfortable and refreshed upon arrival, we have seen to it that all necessary amenities your charter bus rental from Toronto or the Greater Toronto Area. While on the road in one of our vehicles, rest assured you are in the hands of an experienced and skilled operator who has passed our stringent requirements and receives regular training updates and certifications. Fleet safety is also guaranteed with an efficient program carried out by highly trained maintenance personnel. Parkinson Coach Lines enjoys an outstanding safety record, held for several generations. Trust us when you need coach or charter bus rental from Toronto and Mississauga; call Parkinson Coach Lines.

For further information contact us at: (905) 451-4776.