There's nothing like the joy of the open road on your way to a new destination. What would make it better is if you could leave the driving to someone else—and bring all your friends with you! If you're considering a road trip in Ontario, going on a bus tour or renting a bus and driver for your group is a great option. There's no need to think about traffic or parking, there's no luggage limit, and there's an onboard bathroom! You won't have to worry about a thing; simply pack your favorite delicious snacks, lay back, and relax.
Now that you know how you're going to get there, where do you want to go? Southern Ontario is rich with some amazing little spots to visit, whether your pleasure is camping, lounging on the beach, or enjoying nature. Within a few hours' drive are some locations that make for a perfect bus trip.
Niagara-on-the-Lake
Only a 90-minute drive from Toronto, the town of Niagara-on-the-Lake is a terrific spot for a mini vacation. From its unique buildings to its incredible wineries, this lovely locale has so much to offer. The downtown Heritage District is an excellent shopping venue, and for accommodations, perhaps reserve a room at one of the many bed and breakfasts. Depending on your budget, these gorgeous homes with their beautiful architecture are a lovely alternative to a hotel.
The Shaw Festival runs from April to December, and seeing one of their 13 plays is a must. The theatre at the Shaw is world-class, so you're sure to be in for a wonderful performance. Set aside a day to tour one of the numerous wineries in Niagara-on-the-Lake and then stay for dinner. Afterwards, catch an outdoor concert at the amphitheatre at Jackson-Triggs Winery.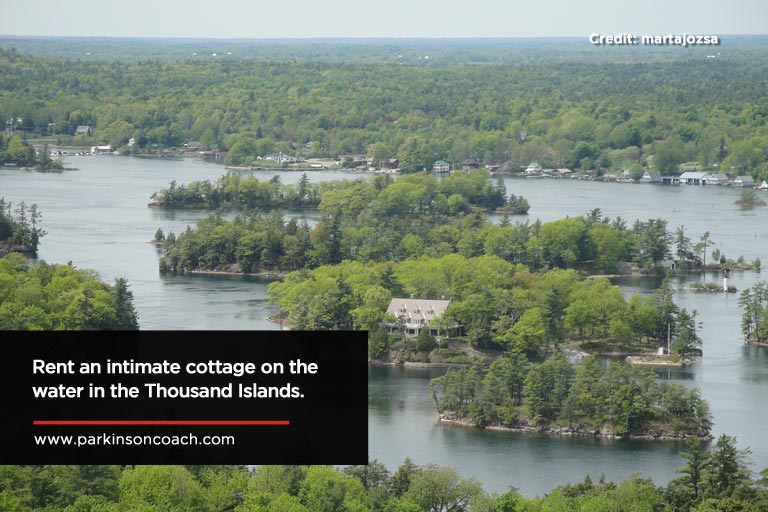 Thousand Islands
The Thousand Islands region is about a three-hour bus ride from Toronto. Located in southeastern Ontario, it's about 15 minutes from the U.S. border crossing into Upper New York State. (Gananoque, a beautiful waterfront community, is the gateway to the islands.) The Thousand Islands are a perfect location for a getaway that's rich in interesting things to see and do. History buffs will appreciate the old lighthouses and ancient castles (and learning that pirates and Prohibition bootleggers once controlled its waters!). Outdoor activities like diving, fishing, kayaking, and golf are also plentiful. Scenic cottages line the peaceful waters of the Thousand Islands; it may be worth renting one during your stay.
Tobermory
Tobermory is located at the very tip of Bruce Peninsula, with Georgian Bay on one side and Lake Huron on the other. It is 295 km northwest of Toronto and about a four- to five-hour drive. This is one of the most stunning locations in Southern Ontario. Its varying habitats, forests, cliffs, and abundant wild orchids make it a very special place to visit. In fact, its natural beauty is why it's at the centre of the UNESCO Biosphere Reserve. Besides the glistening water that surrounds it, Tobermory also boasts two provincial parks: Fathom Five National Marine Park and Bruce Peninsula National Park.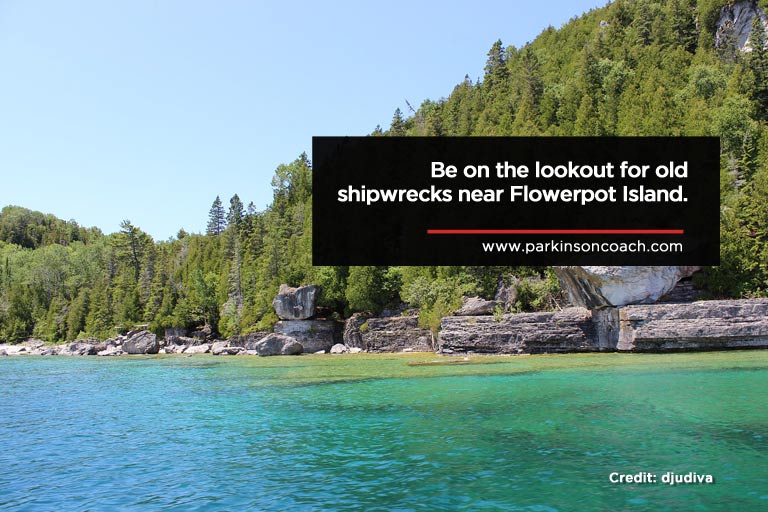 Discover Fathom Five National Marine Park by taking a tour boat out to Flowerpot Island (and see if you can spot the shipwrecks!). Once there, tour the lighthouse museum, explore numerous hiking trails and caves, and, of course, the natural stone pillar flowerpots. In Bruce Peninsula National Park, head to another popular tourist destination called The Grotto, a sea cave with impossibly blue waters. The Cove Island Lighthouse is located on another nearby island, reachable by private tour and lush with spectacular scenery.
You won't want to miss strolling around the harbour and marina in Tobermory; it's a nice way to relax and watch the collection of boats sail through. There are also several delicious restaurants where you can savor a relaxing meal after a long day of sightseeing.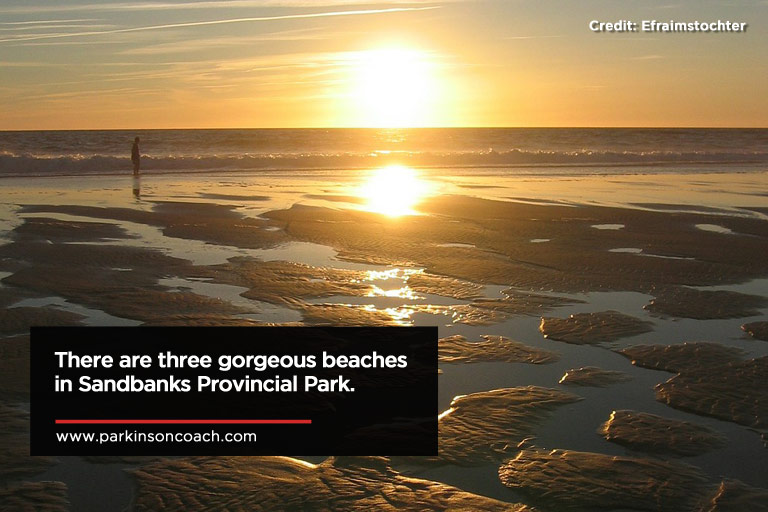 Sandbanks Provincial Park
Sandbanks Provincial Park is located in Prince Edward County, 220 km east of Toronto (just below Trenton), and takes about three hours by bus. This is an ideal destination if you love camping, as there are over 500 car campsites and five different campground areas. The park has many hiking trails and a baymouth barrier dune formation that is known to be the biggest in the world. In the spring and fall, thousands of birds migrate to the area—it's quite an impressive sight!
You can find a variety of other activities here, including fishing, canoeing, swimming, and speed boating. Park staff run the National Heritage Education Program that offers educational courses and events throughout the summer. There are also many family-friendly activities like campfires and slideshows in the evenings. After visiting the park, you may want to experience the rest of Prince Edward County, especially its wineries, antique shops, and biking tours.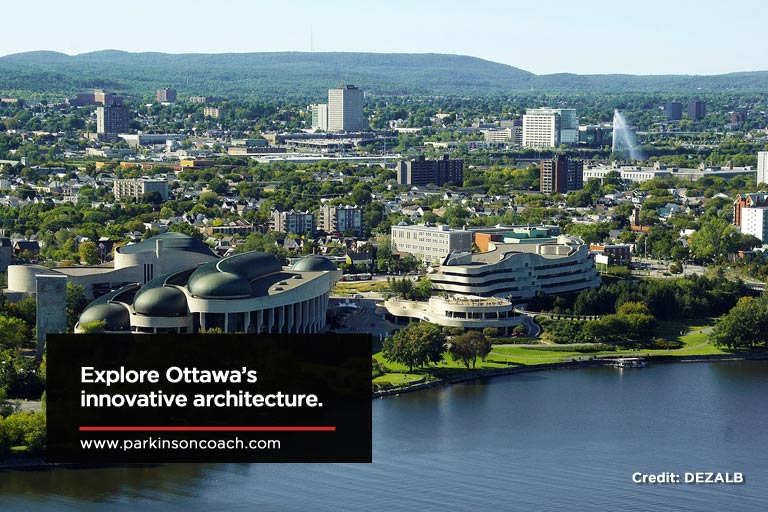 Ottawa
Ottawa is a five-and-a-half hour drive northeast of Toronto. This is a small but charming city where the Parliament Building sits atop Parliament Hill overlooking the Ottawa River. Tours are free of charge, so it's definitely worth going to explore the inner workings of our nation's government. During the summer, the Ceremonial Guard of the Canadian Army marches onto the East Lawn of Parliament Hill to take part in the Changing of the Guard (also free). The ceremony starts every morning at 9:50 a.m., but get there early if you want a good viewing spot.
The Rideau Canal is 200 km long and divides Central Ottawa. In Lower Town, the National Gallery of Canada and Notre-Dame Cathedral are must-sees. The area below the Parliament Buildings is Upper Town, a fantastic shopping and dining area. Additionally, it's host to the architecturally fascinating Bank of Canada building. Other interesting sites to see in Ottawa are:
Dows Lake Pavilion
Royal Canadian Mint
ByWard Market
National War Memorial
Peace Tower
Canadian War Museum
Canadian Tulip Festival
Canadian Aviation and Space Museum
Now that you have some ideas for great road trips in southern Ontario, it's time to start planning your next getaway. Imagine what a relaxing vacation you could have with no worries at all, including driving. You know you deserve it, don't you?
At Parkinson Coach Lines, put your travel and safety needs in our hands. We have been renting and chartering buses in Toronto since 1922. Give us a call at (905) 451-4776 for more information or request a quote.