Every time I travel, I often wonder what the difference is between there between Transit buses and Highway Coaches. In terms of looks the similarities are just too many, so it's really difficult to distinguish one from the other. Now let's try to uncover if there are indeed differences between the two and examine what they are.
In terms of the place where it operates
Buses are often found operating in cities while coaches are usually used by tourists traveling on long distance trips of several hours or even days. When I went to Malaysia from Singapore, I took a bus but it was a little uncomfortable. Now I realize that we could only take a bus because it takes less than an hour to cross the border.
In terms of comfort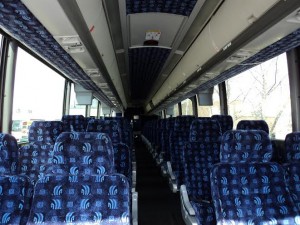 Transit Buses are less comfortable when compared to highway coaches. It also has less facilities and amenities, highway coaches have bathrooms, video screens, and deluxe individual seats. This is because coaches are generally intended for long hours of travel, so it is more spacious and it has the capacity to accommodate luggage. I heard from a friend, who is a frequent traveler, that traveling to a place which takes more than four to six hours, a coach is the best option when you have to choose the most comfortable transportation.
In terms of frequency of stops
Buses have to stop frequently at designated stations, while highway coaches are booked by the group and stop at a location that is convenient to the group. Most highway coaches go directly from their point of origin to their destination. The rest will usually only stop for a few minutes.
In terms of cost
The cost of transit bus fare is less than that of a highway coach, this is mostly because a transit cost is subsidised by the tax payer.
The differences may be very trivial but if your comfort and convenience is more important to you than any other factors, then you now know what to choose.