A wedding is an eventful time and one that is meant to create memories for a lifetime. There are many things that need to be considered when you are planning your wedding, and one of them is transportation. Since it is important, you should look into wedding busses as a means to get you to the church and the reception.
A Wedding Bus Is A Great Idea For Many Brides And Grooms
It can hold more than just the bride and groom. In many cases, it can hold the whole wedding party and more people if needed. This makes for a lot of fun because everyone will be together, and they can communicate more readily than going in separate vehicles.
Be Sure That You Have Some Decorations For The Wedding Bus
You will want to keep your decorations in the color scheme for your wedding. Include some streamers and other great items to decorate the bus with.
When You Are Planning Your Wedding, Keep In Mind How Many People Will Need Transportation
When you send out your invitations, ask the people you have invited if they will need transportation. This will give you a better idea of how many people will be going on the bus. This will matter when you make a reservation for the bus because it will partially determine how much the service will cost.
How Much Does Wedding Bus Service Cost?
The cost will vary based on the number of people that will be using the transportation, and on how far they will need to go in order to get to the wedding. This will all be discussed during a consultation when you first contact Parkinson Coach Lines. We will be glad to assist you with the information that you are seeking and we will answer any questions that you might have. Should you have a concern, please bring it up so that it can be addressed, and you can get the answers that you are seeking.
Parkinson Coach Lines For A Great Transportation Alternative Rather Than A Limo Or Taxi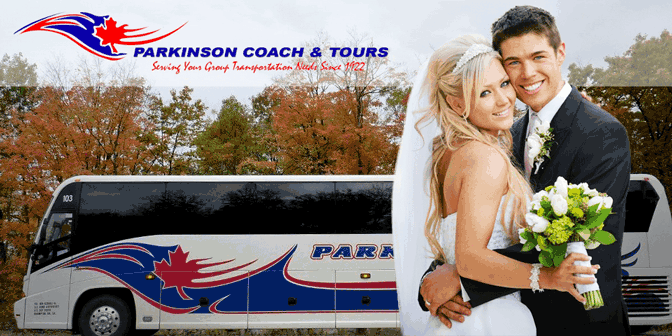 At Parkinson Coach Lines, we have been in business since 1922. In Ontario, we service quite a lot of people, and for weddings we can't be beat. We love to assist the bride and groom and transport them and their loved ones to wherever they need to go.
We, at the Parkinson Coach Lines offer great wedding bus services. Please call us at 905-451-4776 so we can assist you on your special day. We are sure to make it even more memorable than you can imagine.