When you tour Toronto in the spring with a group or friends, family, or business associates, a bus tour is the best way to see our amazing and expansive city. An expert company can design a custom tour for your needs. Coach rental is a relaxing way to see the many exciting attractions in Toronto.
CN Tower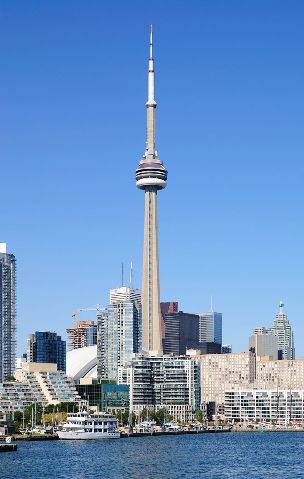 The CN Tower stands 1,815 feet high. The American Society of Civil Engineers describes it as one of the seven architectural wonders in the world. It has a panoramic view of Toronto and aids with the transmission and broadcasting of radio and TV. An elevator takes visitors quickly to the top in less than one minute. It has a glass floor observation room, lookout level, and a revolving restaurant. The SkyPod is the highest observation deck in the building. The CN Tower is open every day.
Ripley Aquarium of Canada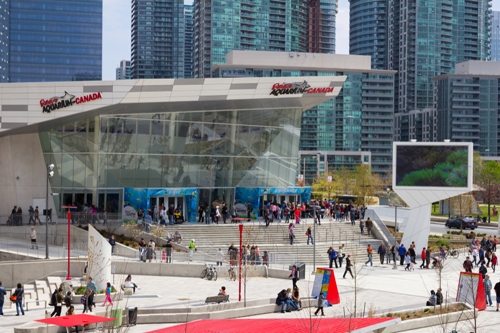 This aquarium features several galleries with amazing underwater aquatic displays of Canadian waters, reefs, lagoons, and shoreline. You will see Halloween crabs, living coral, five species of jellyfish, sharks, and stingrays. Stop at the Ripley Cafe to eat, and shop at the Cargohold Gift Shop. It's a great stop for adults and children alike.
Distillery District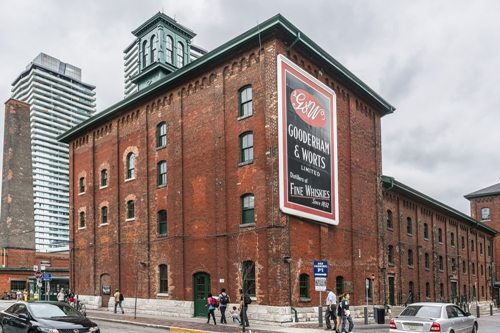 Featuring Victorian buildings with art galleries, theatre, cafes, restaurants and shops, the Distillery District is a great place to spend an afternoon or evening. With its cobblestone streets, this is a pedestrian-only neighborhood. The Mill Street Brew Pub operates alongside the Mill Street Brewery. They produce small batches of seasonal beers and give tours. They're often open on holidays. The brewpub has a full menu for lunch and dinner with appetizers, salads, main entrees, and desserts.
Farmers' Markets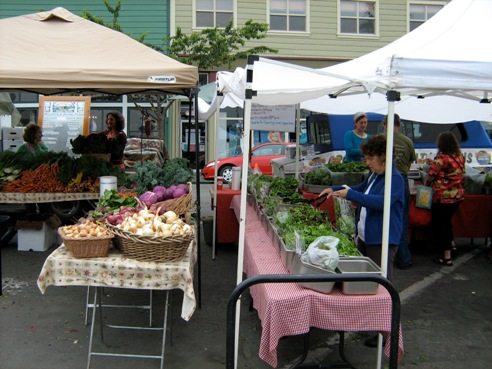 There are many Farmers' Markets in Toronto that can be part of a tour. The Leslieville Farmers' Market operates on summer and fall Sundays from 9:00 a.m. to 2:00 p.m. and focuses on fresh produce and product made by local farmers. They have apples, berries, goat milk, beef and pork, wine, baked goods, tea, and honey, as well as fresh made bacon sandwiches and curry. The Kensington Market is open almost every day of the year and is located throughout an entire Toronto neighborhood with restaurants, art galleries, and specialty shops. You'll find coffee shops, art, vintage clothing, jewellery, decorative items, and handcrafted pieces.
Toronto Hockey Hall of Fame and Museum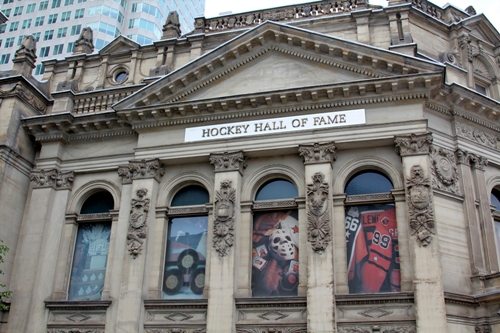 The museum covers about 65,000 square feet of spaces and has many hockey collectibles. It has a display of the Montreal Canadiens' Locker Room. One exhibit has over 1,000 hockey pucks collected from tournaments around the world. Tim Horton's Theater seats 120 people and shows films of hockey games and tournaments. It has a retail store, too.
Contact Parkinson Coach to book or arrange a spring tour for Toronto for your group or business. Our staff will custom design a tour to your particular interests. We know the area inside and out and will provide safe and dependable transportation. Call (905) 451-4776 to arrange a tour today.