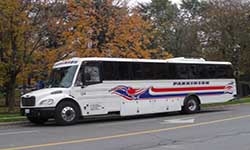 With many people going on road trips to make the most out of their March break, two options have emerged as the most popular way to hit the road: driving your own car and taking a chartered bus.
If you're headed to Florida from Toronto, why would you endure the grueling 3,000-kilometer trip behind the wheel, when you can relax in a rented tour coach bus? Here are some reasons to take a bus and why it's simply unbeatable next to driving.
1. Bus rentals often have a wide range of amenities that make the otherwise yawn-inducing road trip an unforgettable experience. From flat screen TVs, DVD or Blu-ray players, reclining chairs, to a sound system and restroom, a bus rental simply offers a stylish and more comfortable way to travel.
2. Bus rentals allow you to transport several people safely and cheaply compared to traveling in several cars. Whether you're a party of 5 or a group of 20 to 30 people, there's a tour bus to match your group size.
3. Rented tour buses are significantly safer than driving on your own. Our bus rental who's are driven by a trained and professional drive whose sole mission is to get you to your destination as quickly and safely as possible.
4. Bus rentals also end up being more economical next to driving on your own (think of gas, maintenance etc.), especially since you're transporting several people at a time. And since you get to enjoy the trip instead of being behind the wheel, you get better value for money.

5. Traveling on a bus is…fun! You get to sit back and relax while enjoying the bus's amenities instead of enduring a long and exhausting drive. With no time spent behind the wheel, you get to interact with your travel mates and enjoy the road trip more.