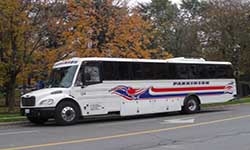 A bus is just one of the various road vehicles that are created and designed today for transporting multiple passengers. But buses, which are also termed as multi-buses, stand out from all the other vehicles due to its capacity to carry passengers as many as 300. This is the reason why this public/private transportation has many uses, from giving children a ride to school, to having promotional usage when electoral campaign start.
Different Types of Buses
There are various types of buses, and every one of them sports different designs and features, mostly depending on the producer of the bus. One prominent type is the single-decker bus. It is still the most commonly produced and used buses. Another type is the minibus, which is actually smaller in size and shape when compared to the single-decker. However, it is useful when carrying smaller loads at longer distances. The double-decker bus is another type that carries more passenger and/or baggage loads. From its name itself, this bus type provides two levels similar to an apartment, with a functional staircase from the base to the second level. These three are the ones typically hired when large number of individuals needs to travel at long distances. There are of course other bus types, and these are coaches and the open-top buses. Both of them are entirely for leisure purposes, but may be used for school events like educational tours.
Why Buses Can Be Your Best Friend
Public transportation has used buses. The buses employed here usually have utilitarian features that make the lives of large groups of person more efficient when they travel to far-away places. These vehicles even have multiple doors for effectively moving people going outside and inside, and vice versa, inside the bus.
Buses have also been utilized by the tourism industry, especially the ones with the tops wide open. This gives tourists the best possible space for public viewing of the environment and local attractions. Single deckers, as well as coaches, have also been hired by beach resorts and theme parks for transferring their clients from their point of origin to the leisure lairs.
Schools and students have also seen the use of buses for quite a while now. American schools make use of yellow buses to travel the kids safely to and from schools and their houses. Field trips, sports event, and many school-related activities have even the seen the usability of public transport that is the bus.
Private groups have come to notice also the popularity of buses. Promotional services, like during election campaigns and commercial products and services, or just plain owning a private bus, have been made known. Buses have, therefore, been there and manufactured for a variety of reasons, and a whole lot more.