If you are looking for fast, affordable, smooth transportation services within downtown Toronto area and the Toronto Pearson International Airport (YYZ) consider a bus rental.
Many transport options exist, however airport bus rental services are known to be one of the most effective methods. When you need to get to the airport in Toronto, it can sometimes quickly turn into a huge ordeal. You have bags to pack, and places to be. When time is of the essence, we highly encourage selecting airport bus rental services for your transportation solution. They can be a great choice for many travelers.
When you are looking to either enter, or exit the airport, you should consider the following reasons why bus rentals can make traveling so much easier than other transportation methods. Below is just a few of them to help you better decide.
On Time Arrivals
You can be assured you will arrive on time. This can undoubtedly be one of the most important reasons to consider when you are in the process of deciding to make the choice to rent a bus service. With so many potential factors that can complicate your travel itinerary, making your arrival to the airport can become a very difficult task. Lets face it, it's not hard to lose track of time, and suddenly realize we are way behind schedule, and now late for our flight. Even if you have left on-time, getting stuck in traffic is also a very real factor. One simple solution to this problem is renting a bus. When you rent bus services to the airport, you can put your mind at ease, and know that you will be arriving on time.
Comfortable Riding Accommodations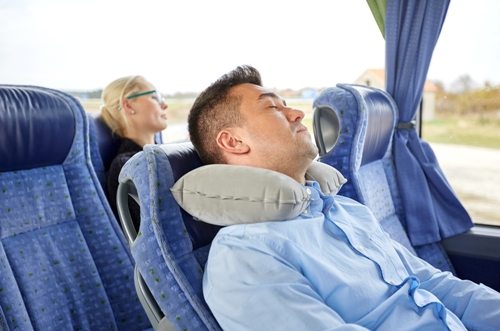 When you travel using a bus rental you have the opportunity to stretch your body, and sometimes have a few hours of rest. Having some time to shut our eyes and tune-out can be a great welcomed addition to our travel. The bus rental also provides ample storage space for holding your luggage. You no longer need to feel cramped, and confined inside a small rental car. The bus is designed for the purpose of holding cargo and large numbers of passengers.
Room for Large Groups
If you are traveling with friends, family, or co-workers, one of your best options is renting a bus. The bus can fit everyone. If you need to go to a large party or event, having the bus rental can be the best solution.
Parkinson Coach not only offers airport bus rental services, but also various other types of services, such as; bus charters, school bus rentals, and minibus rentals. They are a full-serviced solution. Parkinson Coach is a family owned and operated bus company based out of Toronto. The company has been servicing customers since 1922. They are one of the oldest independent bus companies in the entire Toronto area.