One of the safest and most convenient methods for transportation of a large or small group of people across Canada is to hire a professional tour bus to transport all of your party safely to your desired destination. Deciding which bus line is right for your needs is going to be the first step and this article will allow you to decide on some of the factors that a great bus line will provide in order to get you and your party where they are going in a safe and timely fashion. It is one of the most overlooked methods of transportation but it allows a person to relax and leave the driving to someone else. Here are some of the major factors to consider in the decision to hire a coach for your trip.
How Safe Is Bus Travel?
Safety is one of the first factors that groups will consider, especially if the trip involves a group of children or young adults. According to statistics chartered bus travel is among the safest modes of transportation available today. When looking at a coach company you should ask about their safety record and view their history. Great bus companies will not only hand this information over willingly but it will be a part of their advertising campaign. It makes sense that having a professional and experienced driver will be much safer than driving yourself.
Is A Coach Rental Expensive?
When it comes to cost, a great coach rental company will provide many different options of the types of vehicles that can be rented. This can range from coach bus to school bus to mini bus depending on the need, cost and size of the trip being organized. Shop around and you will find a great bus company that will supply the exact vehicle that your trip requires.
Is Bus Travel Comfortable?
Of course being comfortable on your tip is going to contribute to the overall experience. Regardless of the time a trip takes, if a person is relaxed and not cramped it will be an enjoyable experience. Modern comforts are really standard on many rented coaches, including video screens presenting movies, Wi-Fi offerings, and roomy seating. No matter what the age of the group, offering distractions to help pass the time makes the trip more enjoyable and memorable at the same time. When a person has a great experience they are going to share it with others and if they are on a comfortable coach traveling across Canada they will be sharing pictures on their favorite social media which is great free advertising for the company.
Parkinson Coach Lines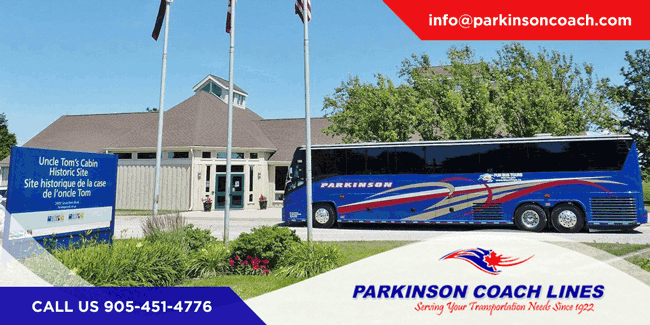 Regardless of the event or need of the trip, a great bus company will be able to fulfill your needs. In Canada it is difficult to find a bus operation better than Parkinson Coach Lines. All of the factors mentioned above are addressed by Parkinson and its well maintained and updated fleet of vehicles. Their drivers provide a professional and courteous experience regardless of the reason for the journey. Be it school trips or wedding parties all will find a comfortable and enjoyable experience in their trip. Contact us today at 1-866-550-6800 for the safest and most comfortable buses in Canada.