Planning a family outing can be exciting …and a little stressful. If you have a group of family or friends who want to do something together, why not make it easier on all of you and rent a minibus that will accommodate everyone? You will conveniently travel in comfort, save on gas and parking. Casa Loma is a short ride only about 20 minutes from Toronto's city core.
About Casa Loma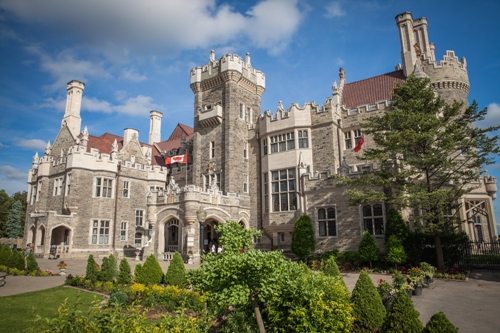 Built in 1914, Casa Loma has been designated as a historical landmark. This is a popular destination and perfect for a family day trip including attractions for both children and adults. You can all share in the magnificence of the castle with its three floors of spectacular rooms, the lower level, grounds, and gardens. Take a self-guided tour in English, French, Japanese, German, Italian, Spanish, Mandarin, Korean, or American Sign Language. Visually impaired guests are offered descriptive tours in English and French.
Casa Loma is also a premier wedding and event destination. We would be happy to provide you with information about planning any special event, and providing transportation for you and your guests. Its impressive rooms and elaborate decor provide a majestic background for any occasion. Casa Loma is widely popular with event planners, and a popular destination for educational school outings. The outdoor terrace offers a spectacular view of the five-acre gardens and the city skyline below. It is a visit and experience you will never forget.
Special Information
If you are planning to visit in the fall, please bear in mind that the lower level, grounds and gardens are closed in early September to decorate for Halloween the "Legends of Horror," held September 30th – October 31st. That is an extremely popular time at the castle and something well worth considering attending.
Pricing and Parking
Casa Loma is open from 9:30 am to 5:00 pm. Parking is $10.00 per vehicle at Casa Loma. If you have a large group, it makes sense to invest that cost into the comfort and convenience of traveling by minibus. Also, you will get a discount on entry fees if you come with a group.
About Renting Your Mini Bus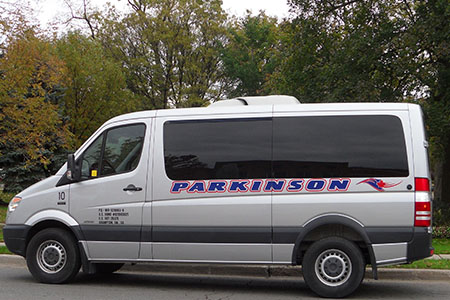 Parkinson Coach Lines would love to take you on your trip to Casa Loma for a family outing, wedding, or special event. Ride in style and relax as we bring you back into Toronto after a fun day. To talk about prices for mini bus rentals and our spectacular drivers, please call: 1-866-550-6800.