Bus rentals can be good for a variety of different purposes. They are great for travel groups because they can move a large number of people around. When a large group of people go traveling, a bus rental can make sense both practically and economically. In addition, it eliminates confusion amongst members of the group. When everyone travels aboard their own vehicles, it is common for some members of the group to get lost while trying to find the group destination. Also, if the group is going to occasions where drinking is involved, having a bus for the group prevents the possibility of drunk driving. Furthermore, you will be more easily able to find unique attractions with a bus rental. The bus drivers from a rented bus will know of numerous excellent things for the group to see. There are a large number of benefits to a Toronto bus rental for group travel. If you are in the Toronto area, there are plenty of options for Toronto Bus Rentals.
Bus Rentals and Travel Groups:

When you get a bus rental, you can be assured that the people in your travel group will arrive at their destinations. There are many great sights to see in Toronto, Ontario. However, your group will not be able to get to them easily if they don't know the city well. Toronto is a very large city, and the directions to get from one place to another can be extremely confusing. In fact, the city has a population of more than two million, and it encompasses a very large area. Bus drivers from a bus rental will know the city like the back of their hand. They will be able to get your group to any travel destination in the entire city. For many travel groups, this makes using a Toronto bus rental necessary.
A Company That Offers Bus Rental Toronto: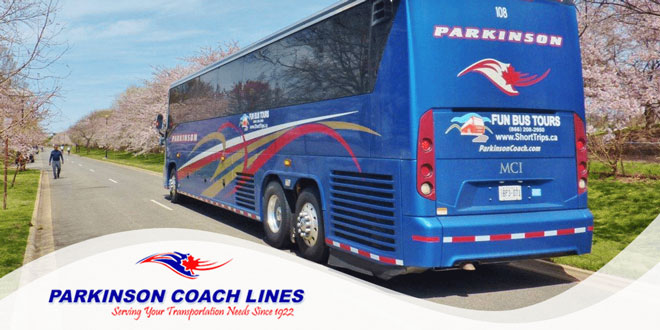 Parkinson Coach Lines offers excellent bus rental Toronto services. Our bus company caters to a variety of different types of travel. It is great for very large groups, such as school groups, or for that extended family trip. We have different sized buses to suit your specific needs. Parkinson Coach Lines also knows the city very well because we have a great deal of experience transporting groups throughout the city. Our bus drivers are also very skilled at their job, and safety is always top of mind with Parkinson Coach Lines. In addition, Parkinson Coach Lines offers services throughout the Greater Toronto Area. We have bus rental services located in Toronto, Ontario and also in Mississauga. To hire Parkinson Coach lines, call 905-451-4776.